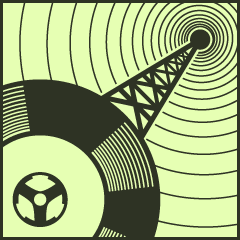 Vibes Promotion with DrmZ
We start this show relaxed and dubby with recent releases on
Echo Beach
.
Tunes from Dub Syndicate's "Hard Food" LP, RSD's "Mixwork In Dub" LP and the "King Size Dub Special" selected by Dubvisionist.
Dubvisionist also provided us with the new 16 Tons Riddim, the second release on his label
11-7 Records.
His first release on this label - the Step-A Riddim - with a huge Warrior King stepper we already played on
January 23rd's show
. Check it, big tune!
This time Bionic Clarke, Chanter and Ras Milo are on the microphone. The M7 Allstars play a classic stepper riddim and Dubvisonist ist on the controls.
The second part is all about Reggae from France.
Tribuman
released his new LP "Digital Raggamuffin" this week.
The album ranges from digital reggae and early dancehall riddims to more modern sounds like on his track "Wha Gwaan 2.0" produced by Chris Val.
Tribuman is a well established trumpet player, too. Represented here on the dub tune "District 12" produced by Jahtari.
And on "Longtime Ready" our friend Longfingah visits for a big combination tune - my favourite track an this release. They have a great dynamic together: on stage and in the studio!
To round up the selection we play many french reggae classics from artists like Admiral T, Daddy Mory, Tairo, Sael and other.
Enjoy!
Jahdubtahz ft. Longfingah "Vibes Promotion Intro"
TVS "Moonsteppa"
RSD ft. Horace Andy & Million Teeth "Bad Man" (Dub Version)
Chin Chillaz "Konkret"
The Senior Allstars "Baltimore" (Dubvisionist Remix)
Dubxanne ft. Ranking Roger "The Bed's Too Big Without You" (RSD Remix)
Dub Syndicate "Love Is Coming" (Dub Version)
Bionic Clarke "Prettiest Girl"
Chanter "Pretty Like A Flower"
Dubvisionist ft. Ras Milo "Ancient Time"
TVS ft. Ras Milo "Stand Strong Dub"
Dubmatix "Ichense Dub"
Dubblestandart ft. Marcia Griffiths "Holding You Close" (RSD Dub Version)
RSD ft. Jah Stitch "Raggamuffin Style" (Dub Version)
Horace Andy "Skylarking" (DJ Madd Remix)
Congo Natty ft. Nanci & Phoebe "Notorious" (DJ Madd remix)
Tayo ft. Pupajim "Vampayaa" (RSD Remix)
Tribuman "District 12"
Tribuman "In Love"
Tairo ft. Balik "A La Longue"
Sugar Roy & Conrad Crystal "Word Sound & Power"
Tony Curtis "Fight It"
Ca$h Flow "Lève La Main"
Jagan Makoka ft. Deux13 "Rebel"
Osi "Basta"
WAN "Ma Sweet"
Deewaï "Nice To Be Important"
Shy FX ft. Liam Bailey "Soon Come"
Kephren "Tout L'amour Du Monde"
Sael "Jah Est Puissant"
Baby G "Donne Moi"
Djama D Baven "Envie De Sourire"
Tairo ft. Tiwony "Reine Sans Couronne"
Million Stylez "Never Give Up"
Ziggift. Admiral T "Cry Murdah" (Remix)
Daddy Mory ft. Tairo & Ol Kainry "Ce N'est Pas A Toi"
Tribuman "Wha Gwaan 2.0"
Admiral T & Awa Imani "J'ai Besoin D'y Croire"
Admiral T "Mizik"
Daddy Mory "Seigneurs De Guerre"
Blacko "Zamalia"
Capleton "Dem Doom"
Tribuman ft. Longfingah "Longtime Ready"
Dubblestandard & Ari Up ft. Lee Perry "Blackboard Jungle"
Listen to Vibes Promotion live: every friday at 8 PM CET on
raggakings.net
2015_03_06_DrmZ_at_Vibespromotion.mp3