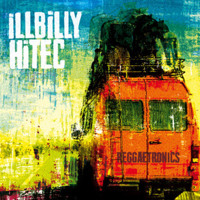 One year is over, many music we had played for you. Thanks to all musical guest´s and DJ´s and interested listener´s. We look forward to 2013 and wish all Vibes Promotion friend´s and musiclistener´s a good start into the new year!
In February
iLLBiLLY HiTEC
will release their first album on the excellent
ECHO BEACH
label.
You can hear already tow songs right now. These songs include the very powerful "Higher Calling" ft.
Longfingah
.
There is already a very nice
video
. WATCH IT!
The second song is a combination of
iLLBiLLY HiTEC ft. Lady N & Longfingah - "State Of Emergency"
by
iLLBiLLY HiTEC.
The artists show their talent on the skanking dance riddim of
iLLBiLLY HiTEC
.
Lady N
from Moscow (Russia) had released in december 2012 also their second album on
Boomrush Productions
called N`Cognito. She is one of the hottest female dancehall artists across Europe, referring both to her attractiveness and her progressive and groundbreaking understanding of dancehall and music in general. Her songs are produced on the highest technical level and scintillate through her unique style of singing. That makes her the opposite of a cheap copy of other artist' styles as it has become sadly common throughout the reggae and dancehall scene.
The album's has two up front single "Real Style" and "You Wanted". TASTE IT:
Lady N - N'Cognito (Snippet)
by
Boomrush Productions
At last check out one mix by OHRWO on soundcloud.
Keep the fire blazing 2013 again. Your Vibes Promotion Team.
Listen to Vibes Promotion live every friday at 7 PM CET at
raggakings.net